Unique atmosphere in our Suites
Hotel Reina Petronila Suites
The Hotel Reina Petronila has 23 suites distributed throughout the 8 floors where its rooms are located.
They are particularly bright and spacious. They all have a lounge and a courtesy bathroom and some of them can communicate with other rooms, making it possible to create a larger area.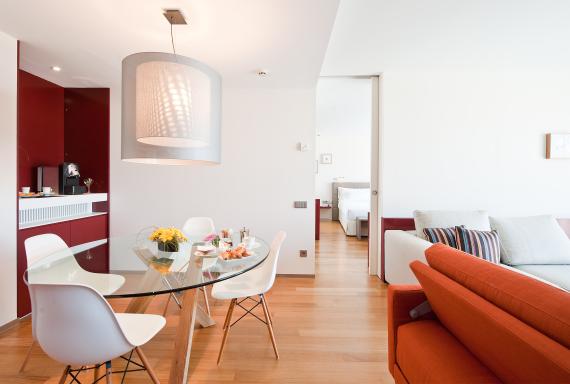 The lounges in the suites offer all the warmth of a living room made for comfort. Some of the suites have a dining table in the lounge to enable a small business lunch or a comfortable breakfast in the room.
The colour scheme of each room changes depending on its height and orientation within the building, thus optimising the luminosity of each one. They range from cobalt blue, burgundy red, pumpkin orange and mink, which makes a stay in this hotel always different.
Suite features:
Loft-style bathrooms decorated in Oxford green marble
Marble bathtub
Vola fittings
Magic Mirror: television in bathroom mirror
Rain shower system
Vitra furniture
Simmons mattresses
King-size beds
Pillow Menu
52" LCD screen
Desk with VGA connection to television
Free Wi-Fi
Minibar with selected products
Hair dryer
Dressing room
Safe with notebook plug