Palafox Hotels has the well-being of its guests and employees as a major part of its identity. Its mission is to provide value and quality services that guarantee the fulfillment of the highest expectations thanks to the trust placed in us.
0. -SAFE TOURISM CERTIFIED
The hotels Alfonso in Zaragoza and Playa Victoria in Cádiz have been certified under the brand SAFE TOURISM CERTIFIED, a label that complies with the UNE technical specifications laid out in the guidelines developed for the prevention of infection from coronavirus SARS-CoV-2. This label, created by ICTE - the Spanish Institute for Quality in Tourism - on behalf of the Secretary of State for Tourism and in line with the measures published by the Ministry of Health, transmits the concept of certified safe tourism, outlining in the label itself that what is being certified is the implementation of a system of prevention of health risks against COVID-19. This certification guarantees that these establishments of the Palafox Hoteles Group have implemented measures to reduce infection by coronavirus SARS-COV-2 for both our guests and our employees.
These standards and measures have been audited by AENOR.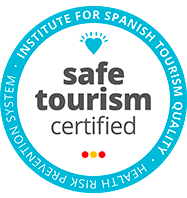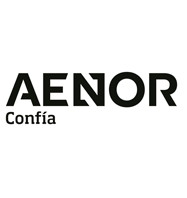 1.-SAFE TOURISM CERTIFIED HOTELS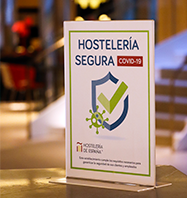 For a safe stay we have implemented a series of measures in all our hotels to reduce the possibility of infection by coronavirus SARS-CoV-2 based on the criteria published by the Ministry of Health and developed by the ICTE. These sanitary hygiene processes are carried out in each and every area of our hotels, from management to staff, throughout our reception, floors, catering, kitchens and maintenance areas.
2.- DIGITALISATION OF OUR SERVICES AND COMMUNICATION SYSTEMS. PRE-CHECK-IN ONLINE
From now on our guests will be able to check in online prior to their arrival at the hotel, which will allow us to speed up the formalities before the start of their stay and also ensure correct distancing from our staff.
You have access to all the latest information quickly and safely by means of QR codes as well as on our website.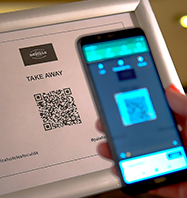 3.- TAKE YOUR TEMPERATURE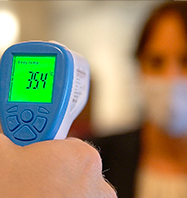 For your safety during your stay and that of our team we invite you to take your temperature.
4.- ENFORCEMENT OF RULES ON SOCIAL DISTANCING
We want you to enjoy a safe environment where safety distances are maintained. We have reorganised our furniture and our spaces to create entry and exit flows, and displayed signs that will allow you to move comfortably through our facilities.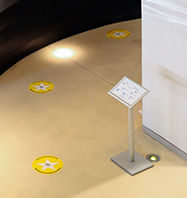 5.- PROTECTION FOR OUR GUESTS AND EMPLOYEES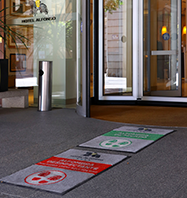 Your safety is our priority. Our employees will be perfectly equipped and protected to receive you. We have placed screens on our counters.
All our guests will have access to disinfectant gel, disposable gloves and handkerchiefs in different areas of the hotel.
6.- PROTOCOLS FOR CLEANING AND DISINFECTING ROOMS AND COMMUNAL AREAS
Both rooms and communal areas comply with the cleaning procedures recommended by ICTE'S SAFE TOURISM.
We have increased the frequency of cleaning and disinfection of reception areas, corridors, bathrooms, halls, restaurants, cafés and terraces.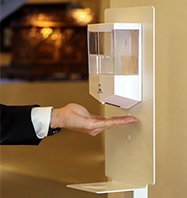 7.- SECURITY MEASURES AND ADAPTATION OF CATERING SERVICES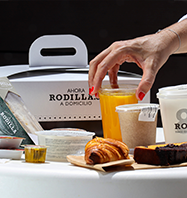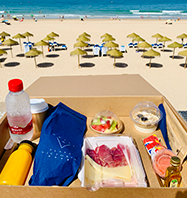 In this first phase, we offer complete individual breakfasts so you can enjoy them in your room or on our terraces.
We have established security protocols in our cafés and restaurants by reducing capacity, controlling demand and defining protocols.
We have done the same with our suppliers, with protocols for receiving raw materials, and waste handling and collection.
8.- CONTINGENCY PLAN AND SPECIALISED TRAINING OF OUR STAFF
Before their incorporation, all our workers have undergone a medical check that certifies their good health. This situation will be checked daily.
They have also received specific training for the correct implementation of safety and hygiene measures and protocols.
Regarding your stay, we have established protocols in case of symptoms related to COVID-19.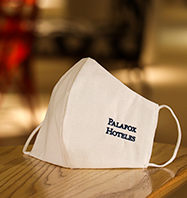 9.- SAFETY PROTOCOLS IN SWIMMING POOLS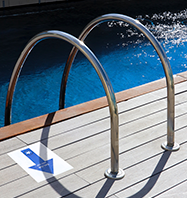 We are aware that our swimming pools will see more activity in the coming months.
In addition to intensifying cleaning and disinfection measures, the furniture will be placed at the required safety distance and we have established an appointment service to ensure everyone's enjoyment.
10. - CONTROLLED CAPACITY OF COMMUNAL AREAS AND TERRACES
In all the spaces of our hotels we have provided information on maximum capacities, in compliance with our security measures.